Looking after you,
You looking out for others
What is the BEAR FORCE mission?
Bear Force was established to reach young children and looks to create safe spaces and environments where children can talk and be heard. its easily accessible platforms provide advice and support in a format that children can understand and raises awareness of the need for adults to listen.
The Bear Force book has subtext to encourage engagement and communication with children and young people in a gentle way as tackling issues head-on is not always the way. It is often much easier to work with a child indirectly using tools, distractions, and other mediums to facilitate engagement.
It encourages dialogue with children and gives them space to express their feelings from a young age and continue to do so as they grow, which can have a really positive impact on their mental health.
Bear Force works with several leading authorities in children's mental health, including KidsOut,  Papyru, The Dove Service and Fosterwiki, who together extend Bear Force's reach.
Bear Force's Management Team consist of highly experienced individuals in their fields, all of whom have also worked within the mental health or children's mental health arena.
Emotional problems in young adulthood – as well as adulthood – can often stem from childhood experiences with reactions presenting themselves many years later. Our work looks to support children as young as 3 years and provides them with tools to help them right through their formative years.
Bear Force has already attracted considerable interest across many industries. Its uniqueness, easily identified both visually and through its simple messaging, looks to develop a collective voice by working with other organisations who want to help children rather than compete in what is a very busy arena with the same narrative.
Richard Bland - Founder (with AB Bear)
Richard has been involved with charity fundraising for the Royal Air Force for 15 years and is also a professional photographer and successful businessman working alongside his wife in their interior design company. He founded Bear Force (previously WCAB) following the loss of their son to suicide in 2013.
Richard (and AB Bear) has worked with various Air Forces, Police Forces, Air Support units, Blue Chip Airlines, and now schools, to raises awareness of the need for children to speak out about their worries and for adults to give them the time and safe spaces to listen to them. He initially wrote the book 'AB Gets his Wings', re-titled 'Bear Force' after its adaption for use with schools and caregivers. The book has now sold thousands of copies.
Lisa Carmel - Marketing and PR
Lisa has worked in regional and national media since leaving school, becoming Group Sales Director for the the Daily Mail's print operations in 2006 where she developed a wide understanding of audience engagement. She has also worked closely with local government, central government, several charities, and famous personalities.
She helped adapt the book 'AB Gets his Wings' so that it could be used by caregivers to explore the emotions of children on a deeper level following her previous work with the national children's charity 'KidsOut' who support children and their mothers in refugees escaping domestic abuse. She has also worked with organisations supporting children in the care system.
Group Captain Rob Caine MBE - Operations
Group Captain Rob Caine has over 2500 fast jet hours and is CFS accredited. He was awarded an MBE in 2015 for his services to Military Flying Training in the New Year's Honours List and was awarded the 2019 Master's Medal from the Guild of Air Pilots for innovation. He is a graduate of the Joint Services Command and Staff College with an MA from Kings College London. Rob is married, and they have a young son who keeps them very busy.
He is passionate about mentoring, coaching, high performance and psychology whether in sport, equine competition or military aviation. He also loves supporting charities like RAFA, and the Dove (Bereavement) Service, and is linked to better mental health and suicide prevention services.
Jo Speed - Charity Finances
Joanne is currently the Finance Director/Deputy CEO of Saltbox and former CEO of two regional charities with expertise in governance/leadership, strategic planning, financial planning systems and control, project innovation, social enterprise development and HR management.
Her prior experience includes Corporate Planning Executive with The Greenalls Group plc and as Board Director of Plus Dane (Cheshire) Ltd, a regional provider of social housing. She has been key to developing the path to charity status for Bear Force.
Adrian Hill
Adrian served as a fast-jet pilot in the Royal Air Force for over 39 years flying the Jaguar GR1A/1B//3A operationally and the Hawk T1 in the training role. He amassed over 3500 flying hours, flying on air operations over Iraq and the Balkans, and served as a Qualified Flying Instructor and Qualified Weapons Instructor. He also commanded 19 (Fighter) Squadron and RAF Valley, interspersed with nearly 20 years in a variety of Joint and Staff appointments, including 12 years in NATO roles overseas. He retired from the RAF as an Air Commodore in early 2023 to rekindle his love for flying and flying instruction, and is currently a civilian contractor Qualified Flying Instructor teaching the basic fast-jet pilot training syllabus to the next generation of RAF and RN pilots on the Texan T1 at RAF Valley.
Adrian first met Richard Bland and WCAB when he was serving as Officer Commanding 19 (Fighter) Squadron between 2006-09, frequently flying WCAB in the Hawk T1 on training sorties around the UK. In 2010-11, WCAB accompanied Adrian for several months of his operational tour in Afghanistan, where WCAB flew on various U.S. and Afghan Air Force aircraft on operational missions. The friendship continued to build when Adrian returned to RAF Valley as the Station Commander between 2011-13, which was the main period when Richard made his connections with the Dove (Bereavement) Service, and the idea of writing the first WCAB book and creating a charity, which has now become The Bear Force Charity, first started.
Adrian is delighted to be an Ambassador for The Bear Force Charity, and looks forward to continuing to support Richard, WCAB and the Charity's wider aims and ambitions.
Dr Sarah-Louise Miller
Dr Sarah-Louise Miller is a historian of war and conflict, specialising in airpower and aviation, the Second World War and military intelligence and innovation. She is a lecturer in the Defence Studies Department at King's College London and teaches at the UK Defence Academy in Shrivenham. She is also a visiting scholar at the University of Oxford's Faculty of History, and is a member of Kellogg College, Oxford. Sarah received her PhD from the Department of War Studies, King's College London, in July 2022. Her thesis examined the work of the Allied naval services in British intelligence during the Second World War, focusing on the Battle of the Atlantic and the Pacific Naval War. She is a Fellow of the Royal Historical Society, a member of the King's Intelligence and Security Group, and an Associate of both the Laughton Naval History and Maritime Strategy Unit and the Freeman Air and Space Institute at King's College London. Sarah is the author of several books and is currently working on a history of the Lancaster Bomber. She also appears regularly on British television, having featured on various history documentaries for the BBC, ITV, Channel 4, Channel 5 and Sky History.
Sarah Anderson
An experienced foster carer of 15yrs and a counselling psychotherapist in the NHS specialising in adolescents Sarah is also one of the founding campaigners for foster carers with a rich history of supporting and championing the foster carer workforce and the children they care for.
FosterWiki was inspired by the challenges foster carers faced in accessing information, often sourcing real information was complex, took a long time and often no one knew where to look if it indeed existed in the first place.
Sarah also wanted to share the most under-utilised asset in fostering, the foster carer's knowledge bank, a veritable wealth of experience, skill and practice that has never been captured or written down, and how things work in practice on a daily basis for the fostering workforce.
Sarah and her team set about creating a community platform, an impartial, independent platform where foster carers could be informed, inspired, feel supported and enhance their roles. A platform that is instantly accessible, day and night, at the tip of the fingers and free.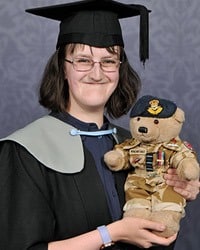 Eleanor Crook
Hi I'm Ellie and i am a photographer as well as i work at Cineworld Ashford as a mental health ambassador too. I am also a Community Councillor in Ashford. The reason I joined Bear force is because it means alot to me to raise awareness for children's mental health and seeing them smile. Bear Force makes me truly happy. Because these days and during the pandemic and lockdown i lost my sense of togetherness and i lost trust in myself and my confidence. Slowly as we were coming out of restrictions I started finding my true self and I found Bear Force.
It is when GB turned up the understudy teddy bear to his brother WCAB and I was allowed to name him and this gave me and was able to participate in everything and I found that this team helped me and supported me that I was able to find myself again.
Me and WCGB likes to go around to places as well as raising awareness for children's mental health and we like meeting people too, that's our speciality. We love sharing the bear force love and seeing what it makes to their day. When I was at university I was able to champion students' needs and I was able to voice their concerns to the governors, so I was a student governor for 6 years from college and university. I have also just completed a course in level 2 in mental health awareness for children and young people.
James Shepard
I was raised as an RAF "Brat" on a Vulcan base (617 "Dambusters" Squadron adron based at RAF Waddington) with my RAF Engineer father, and was always around military aircraft from birth. I became an RAF CCF Cadet at age 13, and was lucky enough to get a gliding scholarship and went solo for the first time aged 16 at RAF Benson on Venture motorgliders.
I applied to the RAF (Turned down due eyesight), and pretty much every branch of the military to fly, but was accepted as a Cadet Pilot by British Airways aged 18, and went straight from 6th form and A Levels to BAE Flying College at Prestwick in 1990. We flew PA28, AS202 Bravos and Piper Senecas during training.
Laid off in 1992 after finishing flying training due to Gulf War 1, after a few odd jobs I had a 3 year stint working as a steward down the back of DC10s and 747 Classics, before joining BA as flight crew on the 757/767 fleet on January 1st 1996.
I moved to the 777 in 2000, beginning a 14 year stint on the "Triple", before moving to the then brand new Boeing 787 for a command in 2014. I applied for and was accepted for a Training Captain position in March 2015, and have now done 8 years as a type-rating instructor (TRI) and CAA examiner (TRE) on the 787.
I came across WCAB and his antics on Twitter a few years ago, and thought "What a lovely charity to be involved in.." and here I am!
Jenny Cornish
I'm currently studying Mental Health and Adult Nursing Integrated Masters at Birmingham City University. I am also a part of the University of Birmingham Air Squadron, where in the next year I will be an APO within the senior leadership team. I started working with Bear Force after meeting Richard at an event held by the University Air Squadron and quickly took an appreciation of the charity's work.
I went on to helping integrate the charity into my role in the squadron. I got AB flying on planes during the Cosford airshow in June and spread the awareness of the charity with all the aircrew that I was greeted with. I am super excited to get more involved in the future and continue to grow this amazing charity. I can really understand the importance of the charity's work through my degree and can wholeheartedly agree with the work and the message that it is sending out.
Duncan Heath
I feel very privilege to be an Ambassador to AB Bear and the Bear Force.
I thank them for the opportunity to promote mental health issues of our children and young adults and to encourage them to seek a better way forward with professional help, who will assist them to visualise a future with confidence and hope. As Sales Director of one of the leading commercial flooring companies in the UK (Direct Commercial Flooring), I get approached by charities for support all the time. Bear Force's work moved me considerably and I just had to be involved.
"In the last 12 months, KidsOut gave over 3000 copies of the brilliant Bear Force book to mothers and their children in over 400 Women's refuges, who had fled domestic abuse. Whilst the book can be easily read by children by themselves, ideally it can be used by caregivers to encourage children to share their worries indirectly through the experiences of the teddy bear in the story, rather than tackling delicate and sometimes traumatic issues with the child head on. The feedback from refuge workers has been nothing other than positive - thank you Bear Force."
Gordon Moulds, CEO, KidsOut
"This delightful little book, borne out of love and a desire to help others has now grown into a brilliant concept with endless possibilities for helping children talk about their feelings and emotions and to connect and reach out to others when they are feeling worried or low. I have provided several books for caregivers." https://fosterwiki.com/wiki/bear-force/
Sarah Anderson, Founder FosterWiki
"This little book is a fantastic tool for parents and professionals to open conversations with children that might otherwise feel too difficult. Encouraging talking about feelings as part of everyday life is a great way to support positive mental health."
Charlie O'Dell, Chief Executive Officer, The Dove Service.
Looking after you, you looking out for others